Ny HUMBAUR Xanthos Aero 2400 hestehenger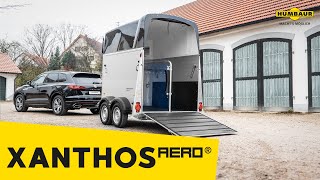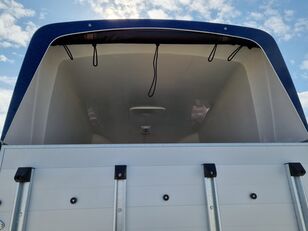 1/33
€ 11 143,80
Pris med moms
Sted
Polen
Końskie
Dato oppført
mer enn 1 måned
Kjøp på avbetaling er mulig
Beskrivelse
Totale mål
3.44 m × 1.71 m × 2.36 m
Karosseri
Skrogdimensjoner
4.59 m × 2.23 m × 2.87 m
Trenger du levering?
Beregn leveringskostnaden
Humbaur trailer, Xanthos Aero 2400 with a saddle box and side doors. For the transport of 2 horses.
Standard equipment of this model includes;
- Suspension: EquiDrive® chassis with shock absorbers (steering axle + shock absorbers)
- EquiGuard® system to unlock the horse compartment from the outside
- Hot-dip galvanized steel frame of the trailer
- Entrance and saddle doors with 3-point lock
- Aluminum rear ramp
- Aerodynamic polyester roof with transverse reinforcements
- 185 / 65R14C wheels, 2 braked axles
- Aluminum floor covered with non-slip rubber
- The structure is made of double-walled, anodized aluminum profiles
- Reinforced support wheel (at the front at the drawbar)
- Interior lighting (removable lamp in the saddle for a motion sensor and a standard lamp in the space for horses)
- Internal separation between horses can be adjusted and moved
- Saddlehouse with hangers for 2 saddles
- 5-way tinted and adjustable side windows
- Rear roller blind
- Wedges - 2 pieces
- 12V electric installation with a 13-pin plug
The elements for an additional charge are:
- Self-adjusting brakes system available for 2.7t GVW
- Track stabilizer
- Aluminum rims
- Roof window (sunroof)
- Additional external beam for tying horses
- Tarpaulin for the trailer
Roof + front are made of polyester resin in the color Dark Blue Metallic with the addition of glitter.
Possibility to choose a different color on request (all except "Black Metallic" extra charge +/- 100 EUR)
Black Metallic / Purple-Red Metallic / Dark Green Metallic / Red Metallic / Ligme Yellow Metallic / White / Magenta / Blue / Green
Technical data:
Internal length (cm) 344
Internal width (cm) 171
Internal height (cm) 236
Total length (cm) 459
Total width (cm) 223
Total height (cm) 287
DMC (kg) 2 400
Own weight (kg) 855
Load capacity (kg) 1 545
Brake Yes
Number of axles 2
Wheel Size (inch) 15
Additional information:
- The trailer has a 2-year manufacturer's warranty.
- Warranty and post-warranty service. Possible delivery to the customer, to be agreed by phone.
- There is a possibility of leasing for people and companies interested.
- Possibility to change the DMC in the range from 2000 - 2700 kg.
- We issue a set of documents necessary for registration for each trailer
(VAT invoice, certificate of approval / CoC, declaration of the authorized dealer).
- It is possible to send a complete set of documents for registration by courier, an advance payment is required.
- The trailer has a TüV 100 km / h certificate (Speed ​​100 km / h), which allows the trailer to move 100 km / h only on German roads !!!
On our other ads you can see the trailers of the following brands:
- Brenderup
- Carro
- Debon (Cheval Liberte)
- Faro
- Fracht
- Humbaur
- Lorries
- Neptun
- Rydwan
- Stema
- Tano
- Wiola
- Zasław
For more information, please visit our website:
vis kontakter
In case of additional questions, phone number: 605 099 958
All data contained in the announcement is for information purposes only and does not constitute an offer within the meaning of Article 66 § 1 of the Civil Code.The presented photos are illustrative photos, and the company is not responsible for any errors or lack of timeliness of the advertisement.
Przyczepa marki Humbaur, model Xanthos Aero 2400 z siodlarnią i drzwiami bocznymi. Do przewozu 2 koni.
Do wyposażenia standardowego tego modelu należą;
- Zawieszenie: podwozie EquiDrive® z amortyzatorami (oś skrętna + amortyzatory)
- System EquiGuard®umożliwiający odblokowanie przegrody dla koni od zewnątrz
- Rama przyczepy stalowa ocynkowana ocynkiem ogniowym
- Drzwi wejściowe i siodlarni z zamkiem 3 punktowym
- Rampa tylna aluminiowa
- Dach poliestrowy, aerodynamiczny ze wzmocnieniami poprzecznymi
- Koła 185/65R14C, 2 osie hamowane
- Podłoga aluminiowa pokryta gumą antypoślizgową
- Konstrukcja wykonana z dwuściennych, anodowanych profili aluminiowych
- Koło podporowe wzmocnione (z przodu przy dyszlu)
- Oświetlenie wewnętrzne (wyjmowana lampka w siodlarni na czujnik ruchu oraz stała lampa w przestrzeni dla koni)
- Wewnętrzne separacje między końmi można przestawiać i przesuwać
- Siodlarnia z wieszakami na 2 siodła
- Boczne okna przyciemniane, otwierane i regulowane w 5 kierunkach
- Roleta tylna samozwijalna
- Kliny – 2 sztuki
- lnstalacja elektryczna 12V z wtyczką 13 PIN
Elementy za dopłatą to :
- System samoregulacji hamulców dostępny w wersji na 2,7t DMC
- Stabilizator toru jazdy
- Felgi Aluminiowe
- Okno dachowe (szyberdach)
- Dodatkowa zewnętrzna belka do wiązania koni
- Plandeka na przyczepę
Dach + przód wykonane z żywicy poliestrowej w kolorze Ciemno Niebieski Metalik z dodatkiem brokatu.
Możliwość wyboru innego koloru na zamówienie (wszystkie oprócz "Czarny Metalik" dopłata +/- 450 zł)
Czarny Metalik / Fioletowo-Czerwony Metalik / Ciemno Zielony Metalik / Czerwony Metalik / Jasno-Żółty Metalik / Biały / Magenta / Niebieski / Zielony
Dane techniczne:
Długość wewnętrzna (cm) 344
Szerokość wewnętrzna (cm) 171
Wysokość wewnętrzna (cm) 236
Długość całkowita (cm) 459
Szerokość całkowita (cm) 223
Wysokość całkowita (cm) 287
DMC (kg) 2 400
Masa własna (kg) 855
Ładowność (kg) 1 545
Hamulec Tak
Ilość osi 2
Rozmiar kół (cale) 15
Dodatkowe informacje:
- Przyczepa posiada 2 letnią gwarancję producenta.
- Serwis gwarancyjny i pogwarancyjny. Możliwa dostawa do klienta, do uzgodnienia telefonicznie.
- Dla osób i firm zainteresowanych istnieje możliwość leasingu.
- Możliwość zmiany DMC w przedziale od 2000 - 2700 kg.
- Do każdej przyczepy wydajemy komplet dokumentów niezbędnych do rejestracji
(faktura VAT, świadectwo homologacji / CoC, oświadczenie autoryzowanego dealera).
- Istnieje możliwość wysyłki kompletu dokumentów do rejestracji kurierem, wymagana wpłata zadatku.
- Przyczepa posiada certyfikat TüV 100 km/h (Tempo 100 km/h) umożliwiający poruszanie się z przyczepą 100 km/ h wyłącznie po niemieckich drogach!!!
Na innych naszych ogłoszeniach można zobaczyć przyczepy marek:
- Brenderup
- Carro
- Debon
- Faro
- Fracht
- Humbaur
- Lorries
- Neptun
- Rydwan
- Stema
- Tano
- Wiola
- Zasław
Po więcej informacji zapraszamy na naszą stronę:
vis kontakter
Dodatkowe pytania tel.
vis kontakter
Wszystkie dane zawarte w ogłoszeniu mają charakter wyłącznie informacyjny i nie stanowią oferty handlowej w rozumieniu Art.66 § 1 Kodeksu Cywilnego.
Prezentowane zdjęcia są zdjęciami poglądowymi, a firma nie odpowiada za mogące pojawić się błędy lub brak aktualności ogłoszenia.
Viktig
Dette tilbudet er kun veiledende. Vennligst be om mer presis informasjon fra selgeren.
Sikkerhetsråd
Selgers kontakter
Polen, Helligkorsvoivodskapet, 26-200 , Końskie, Kuźnicza 6
Forhandlerens lokale tid: 02:13 (CEST)
Skal du selge maskineri eller kjøretøy?
Du kan gjøre det med oss!