Ny 236x125x35cm Light trailer+ schock absorbers gvw 750kg varehenger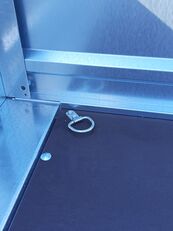 1/14
Sted
Polen
Gietrzwałd
Dato oppført
mer enn 1 måned
Karosseri
Skrogdimensjoner
2.36 m × 1.25 m × 0.35 m
Trenger du levering?
Beregn leveringskostnaden
*DELIVERY*
Directly from the wholesaler
NEW PRODUCTS - Invoice including VAT, intra-community delivery of goods
or export and 12/24 months warranty
Business customers can buy products without VAT
All of our trailers conforms in all respects to the EC CERTIFICATE OF CONFORMITY (COC) and can be permanently registered in Member States having left/right hand traffic and using metric/imperial units for the speedometer.
Contact us phone & Viber & WhatsApp
English speaker
vis kontakter
German speaker
vis kontakter
or
vis kontakter
The subject of the auction is the P2312R .
It is a lightweight caravan on the 3-leaf reverberant with shock absorbers. The trailer is equipped with German axles AL-KO or KNOTT. The front and rear sides are opened. It is a light trailer that does not need to be inspected, in category B. The trailer's DMC is smooth, which means that we can adapt it to your needs.
NAME - P2312R
INTERNAL DIMENSIONS - 236 x 125 x 35 cm
Min. DMC: 300 kg
DMC Max: 750 kg
CHARGE - 554kg
OWN WEIGHT - 196 kg
GUARANTEE - 24 months
STANDARD EQUIPMENT:
* Two 3-leaf springs and shock absorbers
* Supporting wheel
* V-type tow bar 750 kg solid
* Floor with non-slip waterproof plywood
*4 x holder for securing the load
* Wheels 155/70 R13
* Banks made of galvanized steel sheet
* Front and rear doors opened (all sides disassembled)
* Support frame: made of bent steel sheet profiles 2.5 mm, galvanized, twisted
ADDITIONAL EQUIPMENT:
*Spare round - 65€
*flat cover - 41€
*Frame with tarpaulin h-80cm - 155€
*Frame with tarpaulin h-110cm - 189€
*Mesh sides - 175€
*ABS Lid
*Transport straps
*Three warning triangle - 5€
Contact us phone & Viber & WhatsApp
English speaker
vis kontakter
German speaker
vis kontakter
or
vis kontakter
Working hours:
Monday - Friday 8.00 - 17.00
Saturday 9.00 - 14.00
Terms of delivery:
• Direct delivery to your address
• Depending on the model and country we would like to offer you the delivery price
• The lead time is between 2 and 8 weeks, depending on the availability of the selected model
• While the order is processing - we will inform you about the progress.
• We will contact you 2-3 days before delivery day
• For personal pick-up, we can arrange temporary registration plates
• All documents (invoice, EU Certificate of conformity (COC) are coming with the trailer
• Guarantee 12/24 months
Contact us phone & Viber & WhatsApp
English speaker
vis kontakter
German speaker
vis kontakter
or
vis kontakter
Mazzo Maciej Kubiński is a company with 10 years history, based of our work started
on 2007. The company Mazzo is located at Olsztyńska 46 street in
Gietrzwałd. We have the biggest square with the largest selection of trailers in our
country.
Mazzo is the dealer leader in selling new trailers.
Our company selling trailers from the biggest and from the best trailers manufactures
in Poland.
We are also one of the largest sellers in Europe.
Our trailers are sold all over in Europe.
Our company boast over 10 years of experienced in selling, modernizing and servicing
all types of trailers. We cooperate with leading European trailer producers and have in
our offer more than 500 models.
Our trailers have an international Certificate of conformity and all certificates required for
registration in the EU countries. Our team speaks English and German and is looking
forward to hearing from you. For and additional charge we can deliver our trailers
throughout Europe directly to your door.
If you are interested in our products or would you like cooperate with us – please
contact us by phone
vis kontakter
or by e-mail
vis kontakter
.
In our offer there is a large selection of different types of trailers:
• Usual car trailers with steel structures and canopy
• Boat trailers
• Motorcycle and quad trailers
• Car transporters
• Side curtain transporters
• Mini Digger, Plant, Excavator Trailers
• Tilt trailers with hydraulic
• Tipping trailers
• General purpose trailers
• Platforms
• Box (VAN) trailers
• Special trailers
• Horsebox trailers
PRO 2312R 236x125x35 Kastenanhänger BLATTFEDERN mit Stoßdämpfer!
E-Mail:
vis kontakter
Handy:
vis kontakter
– Deutsch, Polski
Handy:
vis kontakter
– Deutsch, Polski
Handy:
vis kontakter
– English, Polski
LIEFERUNG innerhalb Deutschlands - nur 100-150 Euro!
Wir liefern unsere Produkte nach ganz Europa!
Direkt vom Großhändler
NEUWARE - inkl. Rechnung mit ausgewiesener MwSt. und 12 / 24 Monate Garantie
Geschäftskunden können Produkte ohne MwSt. bzw. VAT kaufen
Alle unsere Anhänger haben die entsprechende COC-Homologation, die eine Zulassung innerhalb EU-Ländern ermöglicht
Technische Daten:
Innere-/Lademaße: 236x125x35cm
Nutzlast: ca. 554kg
zul. Gesamtgewicht: 750kg
Leergewicht: 196kg
Federung: 2 Blattfedern mit Stoßdämpfer!
Reifen 155/70 R13
Robustes voll verzinktes Fahrgestell mit V-Deichsel
Korrosionsschutz: Feuerverzinkte Konstruktion
Tragrahmen: verschraubte Konstruktion aus gebogenen Profilen aus Stahlblech mit einer Stärke von 2,5mm gefertigt
Ladefläche: Boden aus rutschfestem und wasserdichtem Sperrholz 9mm
Starkes Stützrad
Vormontierte Befestigungsknöpfe für Planenbefestigung an den Bordwänden
Vordere und hintere Bordwand 35cm kann man öffnen
Zusatzaustattung (als Option):
Flachplane
Hochplane mit Gestell H-80cm (vom Boden 115cm)
Hochplane mit Gestell H-110cm (vom Boden 145cm)
Ersatzrad
Ersatzradhalter
Aufsatzbordwände BIS
Gitteraufsatz / Laubgitter
Abschließbarer Deckel aus Kunststoff
Im Angebot haben wir auch andere Anhänger:
205x125x35cm - zGM 750kg
236x125x35cm - zGM 750kg
263x125x35cm - zGM 750kg mit 1 oder 2 Achsen
263x150x35cm - zGM 750kg mit 1 oder 2 Achsen
300x150x35cm - zGM 750kg mit 1 oder 2 Achsen
350x150x35cm - zGM 750kg mit 1 oder 2 Achsen
Alle Modelle kann man zusätzlich mit Plane und Gestell ausstatten!
Lieferung:
Wir liefen unsere Anhänger direkt an die von Ihnen vorgegebene Adresse bis zur Haustür
Je nach Modell belaufen sich die Lieferkosten auf 100-150 Euro
Die Lieferzeit beträgt zwischen 2 und 8 Wochen nach Bestellung, abhängig von der Verfügbarkeit des ausgewählten Modells
Vor der Lieferung erhalten Sie von uns mindestens 5 Fotos mit dem bestellten Artikel, um die Bestellung zu akzeptieren und Ihre Anmerkungen an uns zu äußern. Ihre Zufriedenheit ist für uns sehr wichtig
Wir werden Sie laufend über den Fortschritt Ihrer Bestellung informieren und 2-3 Tage vor der Lieferung werden wir das Lieferdatum mit Ihnen abstimmen
Alle Unterlagen, die Sie für die Zulassung benötigen (europäische COC-Homologation, die Kaufrechnung, zusätzliche Spezifikationen und Bestätigungen), werden Sie zusammen mit dem gelieferten Anhänger erhalten
Wir liefern unsere Produkte nach ganz Europa. Keine Insel-Lieferung möglich
Für die Kunden, die einen Anhänger selbst abholen möchten, können wir Exportkennzeichen mit der Versicherung vorbereiten
Angebot von:
MAZZO Maciej Kubiński
Olsztyńska 46
11-036 Gietrzwałd
Verkaufstelle MAZZO Modrzyca:
Nowosolska 20
67-106 Modrzyca
Handy:
vis kontakter
– Deutsch, Polski
Handy:
vis kontakter
– Deutsch, Polski
Handy:
vis kontakter
– English, Polski
Wir sind gerne für Sie auch per WhatsApp & Viber erreichbar!
vis kontakter
vis kontakter
E-Mail:
vis kontakter
Öffnungszeiten:
Montag - Freitag 8.00 - 17.00 Uhr
Samstag 9.00 - 14.00 Uhr
Außerhalb der Öffnungszeitenkönnen Sie Ihre Anfragen auch jederzeit per E-Mail an:
vis kontakter
stellen. Unser Team spricht Deutsch, Englisch und Polnisch.
Unsere Firma hat über 20 Jahre Erfahrung im Vertrieb, Umbau und Service von Anhängern aller Typen. Dank unserer Erfahrung bieten wir Ihnen eine professionelle und hochqualifizierte Beratung an.
In unserem Angebot befindet sich eine große Auswahl unterschiedlicher Typen von Anhängern:
PKW-Anhänger
Fahrzeugtransporter
Maschinentransporter
Motorradanhänger
Bootsanhänger
Hochlader
Kipper
Kofferanhänger
Viktig
Dette tilbudet er kun veiledende. Vennligst be om mer presis informasjon fra selgeren.
Sikkerhetsråd
Selgers kontakter

Siedziba główna Gietrzwałd - sales@mazzo.pl
Polen, Ermlandskmasuriske voivodskap, 11-036, Gietrzwałd, ul. Olsztyńska 46
Forhandlerens lokale tid: 22:54 (CEST)
Skal du selge maskineri eller kjøretøy?
Du kan gjøre det med oss!